Careers News
Science Week with Sheffield Hallam university
Science Week with Sheffield Hallam University Friday 5th to Sunday 14th March. This is an online event and features courses in sport, criminology, sociology, midwifery etc...
Click for more details and to book.
Career in the RAF?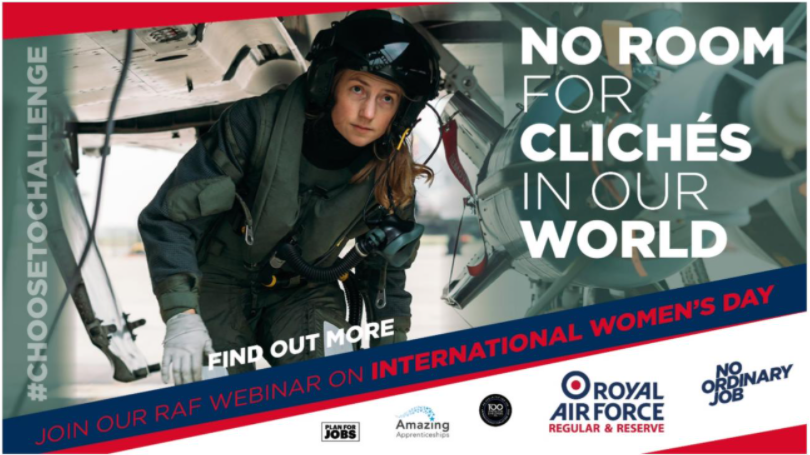 Join the International Women's Day 'No Room for Clichés' interactive webinar
As part of this year's #ChooseToChallenge theme for International Women's Day, Amazing Apprenticeships and the RAF will be hosting an interactive 'No Room for Clichés' workshop.
Aimed primarily at female students in Years 10 to 13, the event from 2 to 3.30pm on Monday 8 March 2021 will showcase the diverse roles in which airwomen and female officers are employed in the RAF and allow participants to explore the apprenticeship and career opportunities available to them in every job role in the Service.
Students, careers staff, parents, carers and teachers are invited to join our Ambassadors from across the ranks for presentations, interactive sessions and Q&A opportunities to discover how women in the RAF #ChooseToChallege in their diverse roles.
Register now for the event at: https://amazingapprenticeships.com/raf-iwd/
See the award-winning 'No Room for Clichés' advertisement at: https://youtu.be/ILXKxe5yv3Y

If your child is interested in a career in the RAF please click HERE for more information and free Webinars to help them with their choices.
Careers Advice during Covid-19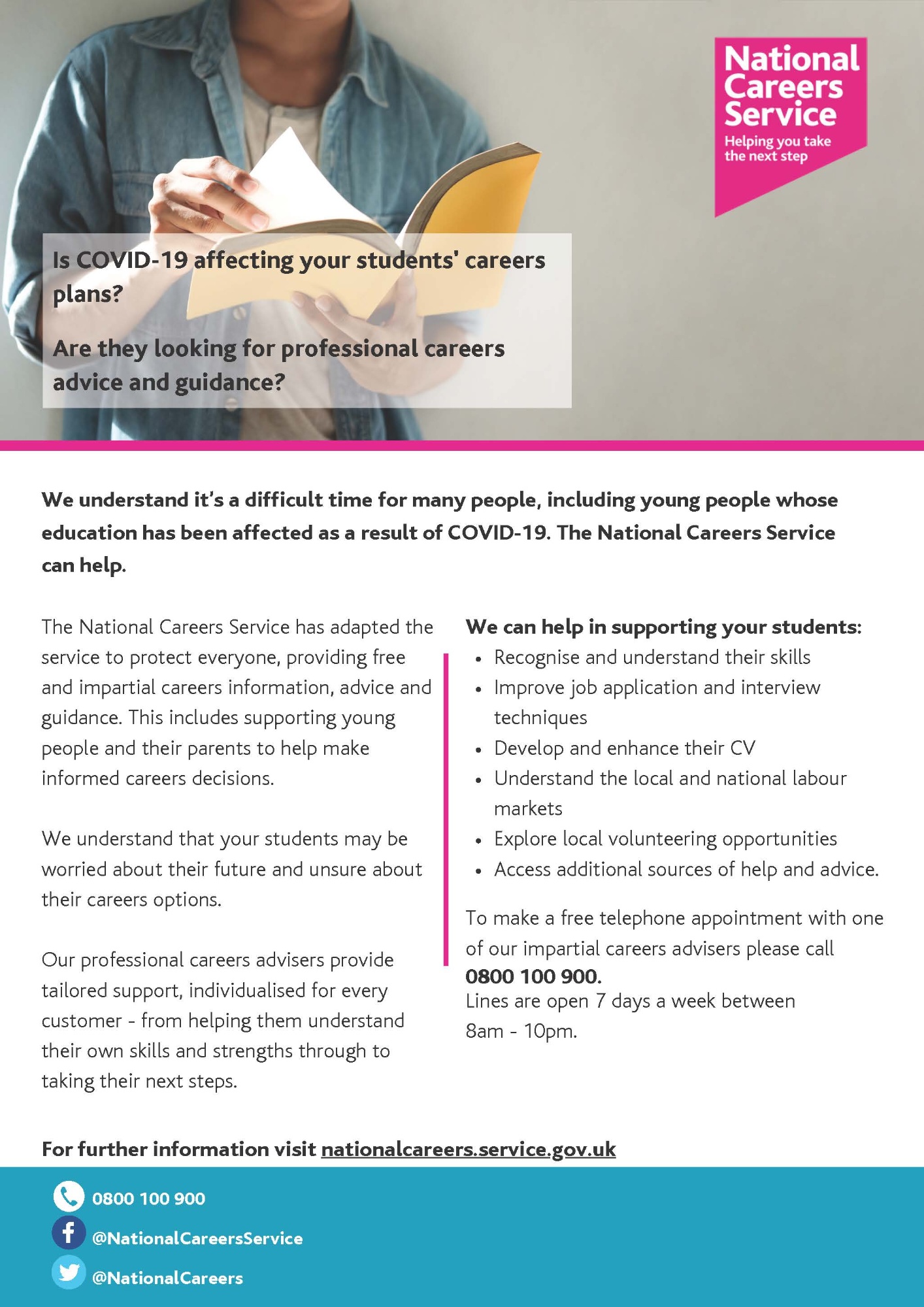 HEPPSY News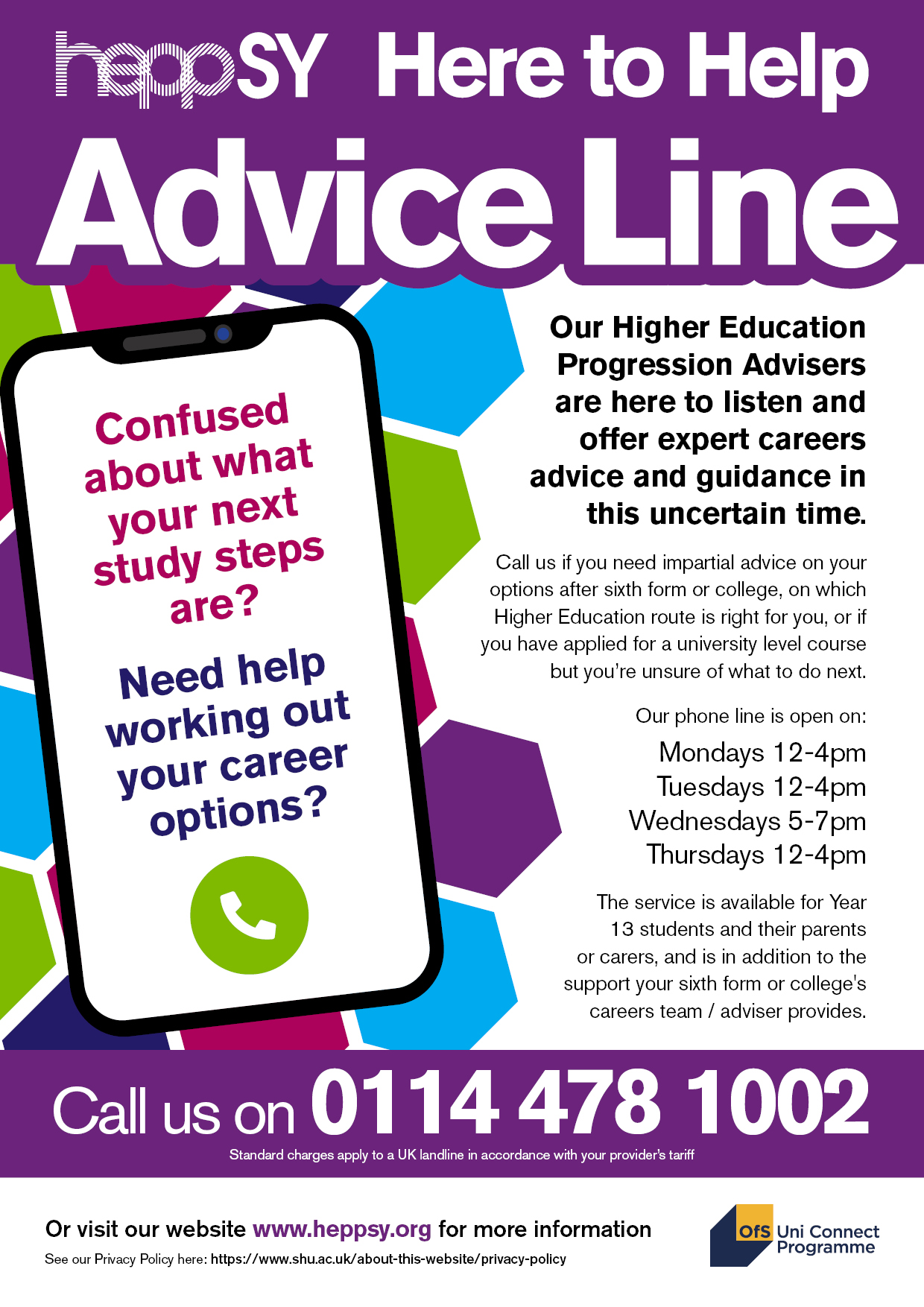 Careers Information re Higher Education
We are very aware that in the current circumstances created by the Covid-19 pandemic, there are many students in a home environment concerned about future career planning and many parents and guardians helping them with this. In order to help at this time Hepp have collected a sample of their most appropriate resources which do not require Hepp/teacher delivery. It is our hope that these will be used in the coming days and weeks to enable family learning and foster conversations about higher education in the home. Although the resources linked are primarily geared towards Y11 and beyond, they are still relevant and informative to all.
Success at School
Careers Guide for Parents/Carers
Success at schools are creating a guide to help parents and carers steer their children through the world of careers choices. From university and apprenticeships to work experience and gap years, the guide will help you through.
The full guide will be out next academic year - but they have created a preview version to help you as lockdown continues.
To access the eBook, parents just need to sign up to a special mailing list for parents. Please click here to be taken to a sign-up form explaining the eBook.
Meet the most amazing people who are getting us through this crisis.
This week, we are celebrating the amazing #CrisisCareersHeroes - such as medics, cleaners, delivery drivers, supermarket staff and school staff - who are helping us all get through the coronavirus outbreak.
We want to thank all of these amazing #CrisisCareersHeroes from the bottom of our hearts and help you learn more about the things they do in their jobs.
Click here for more information on the Crisis Career Heroes who are keeping us safe.
Click here to meet the Crisis Career Heroes in one place.
Spotlight on: transport and logistics - rail
Please click here for information that Success at School are sharing regarding careers in Transport and Logistics.
Spotlight on Engineering Careers
Please click here for information that Success at School are sharing regarding careers in Engineering.
They share what Engineering is all about, what kind of jobs are available, is it the job for you and much more information.
Spotlight on Careers in Accountancy, Banking and Finance Careers
Please click here for information that Success at School are sharing regarding careers in finance.