Enrichment Programme
We believe in balancing academic attainment with a diversity of experiences outside the classroom that are fulfilling, challenging and thought-provoking. It is this conviction that produces young adults with well-developed skills of communication, teamwork and leadership.
We are proud of the wealth of extra-curricular possibilities on offer to our students. Whether they are interested in Sports, Music, Performing Arts, Reading, Films, Duke of Edinburgh's Award Scheme or ICT apps, there is something for everyone!
Homework Club is available after school every day with Miss. Hattersley in room CG4.
Our superb facilities and highly committed staff are the perfect combination to help all of our students realise their dreams.
Performing Arts:
The arts form an important part of Academy life, and students are provided with a number of ways in which to express their creative side including dance, drama and choir. We have had great success in national Youth Speaks, Young Musician and Young Chef competitions. Productions and concerts provide an excellent platform for students to express their creativity, and we are always recruiting new talent to perform.
We have a successful history of musical productions including Little Shop of Horrors, Les Misérables, We Will Rock You, and Alice, have a highly praised Academy band and excellent junior and senior choirs.
Trips and theatre visits are common activities and students perform their work to a range of audiences from assemblies to full scale productions.
Art:
The excellent quality of art work is apparent around the Academy displayed in prominent areas. Students attain exceptional results and a high number take advantage of lunchtime and after-school clubs to develop their skills.
We have gained the Arts Mark Gold award on 3 consecutive occasions. This is as a result of our fantastic arts provision and credit to our talented students. The award is about music, dance, drama, textiles as well as art and productions.
Sports:
We offer a full range of extra-curricular sporting activities including clubs at lunchtime and after school. Football, basketball, rugby, netball and rounders are offered competitively, and older students are actively involved in Junior and Community Sports Leader Awards.
Residential Opportunities:
We firmly believe that residential education provides unique opportunities for personal development. A variety of residential experiences are on offer and these include:
Outdoor Adventure Experiences.
Kingswood
France
Germany
Italy
New York
Academy Band Tours
Aim Higher University Visits
Gifted and Talented Programmes
Students with high ability and specific talent are identified on entry and throughout their time at the Academy. They take part in a number of enrichment activities to stimulate and challenge them. The Academy plays host to a higher than average number of students who gain access to the Young, Gifted and Talented network (YGT). Hubs based at Universities throughout Yorkshire will allow students online access to exciting workshops and support.
Extra-curricular Timetables: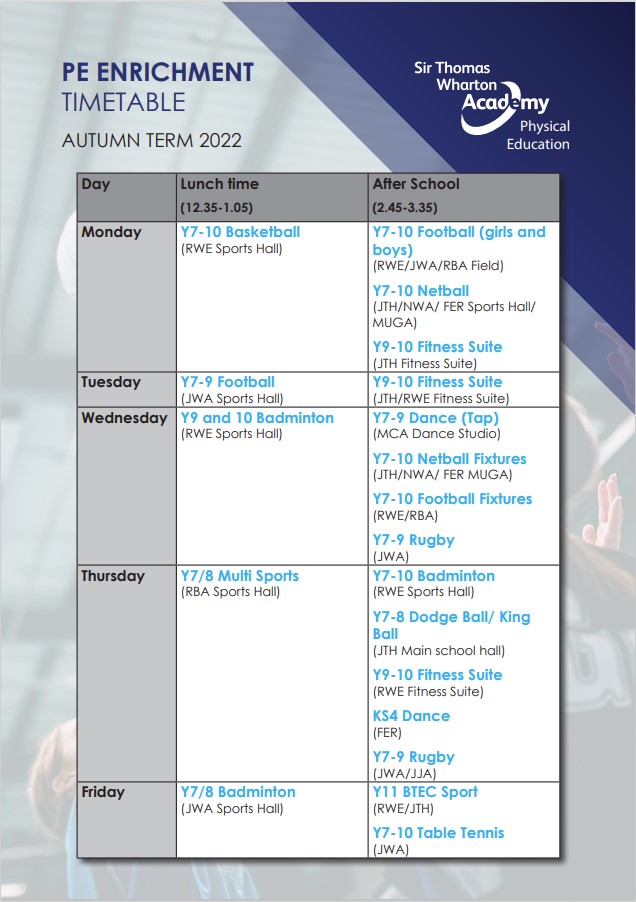 Day
Room
Enrichment and Staff
Time
Monday

EG6

BL2

CG1

BG2

KS3 Drama Club - Miss. Preston

Photography Club - Miss. Wilcox

Chess Club - Mr. Wilkinson

French Club - Mrs. Shipley

2:45 - 3:45

2:45-3:45

2:45-3:45

2:45-3:45

Tuesday

Library

BG7

AG1

BG6

Creative Writing Club - Mrs. Harris-Boldy

Motorcycle Maintenance Club - Mr. Hawcroft

STEM Club - Miss Bott and Mr. Taylor

LGBT+ Alliance - Miss. Ogden

Lunchtime

2:45-3:45

2:45-3:45

2:45-3:45

Wednesday

PE/Outside

EG3

Thrive

BG10

BL8

AF6

American Football Club - Mr. Dobson

Craft Club - Miss. Smith

Lego Therapy - Miss. Shaw

Gardening Club - Mr. Wilson

Life Skills and RS Film Club - Miss. Webster

Book/English Club - Miss. Gerrard and Mr. Jones

2:45-3:45

2:45-3:45

2:45-3:45

2:45-3:45

2:45-3:45

2:45-3:45

Thursday

EG1

Library

BF6

EG3

BL5

Whole School Choir - Miss. Preston

The Debate Club - Mr. Wright

Film Appreciation Club - Mr. Radburn

Art Club - Miss. Barna/Mr. Singh

Board Games Club - Mr. J. Martin

2:45 - 3:45

2:45 - 3:45

2:45-3:45

2:45-3:30

2:45-3:45

Friday

BG3

Year 11 French Breakfast Club - Miss. Marsh

8:00-8:30
Trainers must be worn in the Sports Hall and Activity Hall for lunchtime activities.
*********************************************************************************************************************************
Edlington Kicks
Kicks is a free football session for young people aged 8-18. The sessions are run by coaches from Club Doncaster Foundation and take place every Tuesday evening. You do not need to pay or register to attend; all you need to do is show up! Kicks participants also get the chance to compete for Doncaster Rovers in tournaments run by the Premier League and to win football related prizes.
We hope to see you on the MUGA at STWA soon, 5-6pm for 8-13 year olds, 6pm-7pm for 14-18 year olds.