Magic Breakfast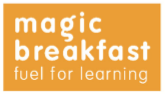 We are currently working closely with 'Magic Breakfast' as a DfE initiative to provide free breakfast cereal to families.
Originally this provision was to be provided within the Academy for our students at the start of the day. Unfortunately due to COVID-19 restrictions we have been unable to do this, therefore we made a decision to provide the cereals for families to take home.
To view all the ingredients and allergens please click here.
For more information on 'Magic Breakfast' and what they provide as a charity you can visit their website here.